SPIRITUAL AWAKENINGS INTERNATIONAL Conference 2023 featuring Special Guest Speaker MARK ANTHONY, JD PSYCHIC EXPLORER
June 10 @ 11:30 am

-

10:30 pm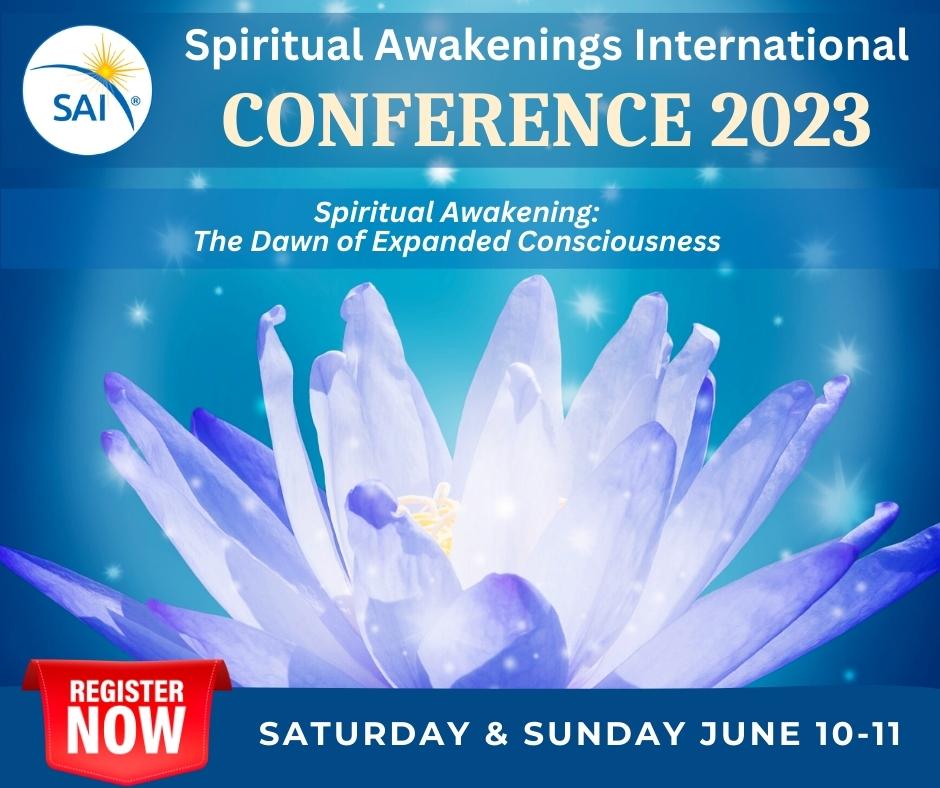 Join us for Spiritual Awakenings International online conference with renowned experts and fascinating Experiencers from around the world. This event is FREE!
CLICK HERE to REGISTER FOR THIS EVENT
Spiritual Awakenings International® (SAI) is a non-profit worldwide network of individuals and groups who are interested in collaborating to raise awareness, network, and share personal experience relating to diverse types of Spiritually Transformative Experiences, to raise global spiritual awareness.
The phrase "Spiritually Transformative Experiences" (STEs) was first coined by Dr. Yvonne Kason MD in 1994, in her ground-breaking book, A Farther Shore, and she expanded upon STEs in her later books, Farther Shores (2000), and Touched by the Light: Exploring Spiritually Transformative Experiences  (2019).
Spiritually Transformative Experiences, STEs, include: Near-Death Experiences (NDEs); mystical experiences; psychic/intuitive experiences of many types; spiritual energy/kundalini awakenings; inspired creativity; other death-related STEs such as deathbed experiences/end-of-life expereiences, death-watch/shared-death experiences, After-Death Communications; and more.  STEs are sometimes referred to as "extraordinary experiences", "exceptional human experiences", "spiritual emergence syndrome", samadhis, siddhis, ascension experiences, and other terms.
All types of STEs tend to transform experiencers' values in a more spiritual direction and propel an increased desire to be loving, ethical, and of service to others.
Spiritual Awakenings International recognizes the interconnectedness of diverse types of STEs. An experiencer might have one type of STE as their initial "spiritual awakening" experience, and later find their consciousness more open to other types of STEs. For example a near-death experiencer or kundalini awakening experiencer may later have more psychic/intuitive experiences and mystical experiences.
STE experiencers often feel isolated, misunderstood, might feel they are mentally unstable, and fear being labelled as "crazy" by others.  SAI is striving to build a safe, supportive, and informed community amongst STE experiencers and spiritual seekers, and to increase understanding of STEs worldwide.
Spiritual Awakenings International is multi-faith, multi-cultural, non-aligned, and is open to anyone peacefully seeking a higher understanding.  We promote respectful and supportive dialogue of diverse views and perspectives on STEs.  SAI was previously known as iSee, the International Society for Extraordinary Experiences.,
To raise awareness of STES of all types and our true spiritual nature, and the fact that STEs are a normal and healthy occurrence in human consciousness which often occur as part of a spiritual awakening process.
To facilitate networking globally, building bridges and community between diverse groups and individuals who share an interest in raising awareness of STEs through: regional group meetings; a newsletter calendar of affiliated groups' events; and by listing affiliated groups websites on the SAI website.
To provide a sharing forum where STE experiencers, counselors, friends, and researchers can share experiences and information in a safe, supportive environment: at local affiliated group meetings; through online events; and at SAI conferences internationally.
Related Events