Quantum Living with Anna Anderson-Open to Listen to the Podcast
September 16 @ 8:00 am

-

5:00 pm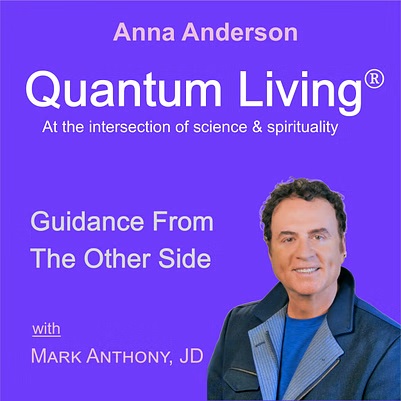 QUANTUM LIVING at the Intersection of Science & Spirituality with Anna Anderson
Guidance From The Other Side with Mark Anthony, JD Psychic Explorer
CLICK HERE to LISTEN TO THE PODCAST
Spirit communication is a timeless topic; alluring and intriguing with its mystery we are seeking to unravel.
Please join me in this enchanted conversation with my returning Guest, Mark Anthony, JD, a world renown psychic medium, as we explore the science and spirituality of the Guidance from The Other Side.
It is enticing and entertaining, with important explanations and profound insights into the life and death (literally) and the nature of our soul journey.
Some of the key topics you will find in this episode:
spirit communication as a two-way street
the purpose of spirit communication
the meaning of "you wouldn't understand" in response to our questions about The Afterlife
messages of love, healing, resolution and protection
spirit visitations and messages in a dream
a useful technique to recall important dreams and dissolve recurring nightmares
can the Spirit lie or have a sinister agenda
not-so-distant future technologies that will facilitate spirit communication
Enjoy and please share 🙂
Music: Purple-Planet Music
Related Events