Online LIGHT CIRCLE WITH MARK ANTHONY, JD THE PSYCHIC EXPLORER–7:30 PM ET/6:30 PM CT/5:30 PM MT & 4:30 PM PT
March 3 @ 7:30 pm

-

9:30 pm

$250.00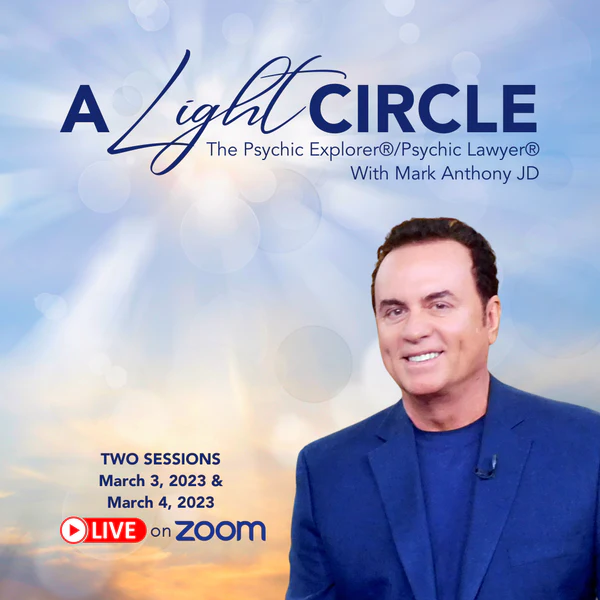 MARCH 3, 2023 – FRIDAY 4:30PM-6PM PT | 7:30-9PM ET – LIGHT CIRCLE WITH MARK ANTHONY, JD THE PSYCHIC EXPLORER
This is a very special interdimensional communication session limited to six people.
Everyone receives a reading and is a most uplifting, healing and beautiful experience to be connected with loved ones in spirit by one of the most gifted and respected mediums in the world.
*UPLIFTING
*HEALING
*ENLIGHTENING
Mark
Anthony
, JD Psychic Explorer® The Psychic Lawyer is a fourth-generation psychic medium who communicates with spirits. He's Oxford educated, licensed to practice law in Florida, Washington D.C., and before the US Supreme Court.
Mark
 travels to mystical locations in remote corners of the world to examine Ancient Mysteries and Supernatural Phenomena.
He appears nationwide on TV & Radio including CBS TV "The Doctors," and Gaia TV's "Beyond Belief" and co-hosts the live stream show "The Psychic and The Doc," on TTN.
He's a headline speaker at conferences and spiritual organizations including Edgar Cayce A.R.E., International Association for Near-death Studies, The Shift Network, Spiritual Awakenings International, Helping Parents Heal, Vail Symposium & universities including Brown, Columbia, Harvard & Yale.
Mark
 is a columnist for Best Holistic Life Magazine and author of the groundbreaking bestseller THE AFTERLIFE FREQUENCY. His other bestsellers are NEVER LETTING GO and EVIDENCE OF ETERNITY
Related Events