Dare to Dream with Host Debbi Dachinger with Mark Anthony, JD Psychic Explorer–Open for YouTube link
November 10 @ 8:00 am

-

5:00 pm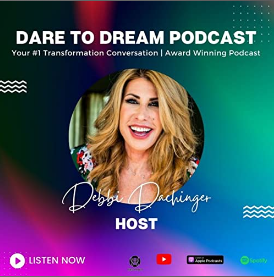 MARK ANTHONY: 4th-Generation Psychic Medium who Communicates with Spirits. On DARE TO DREAM podcast
Highlights:
1) A story of an amazing (real) historical Egyptian mystery
2) Mark, the Psychic Lawyer & Explorer, appears regularly on TV as a legal analyst, psychic medium and expert on paranormal, after death communication and near-death experiences.
3) New information about Reincarnation and grieving
4) The energy of an electromagnetic soulMy guest Mark Anthony, JD the Psychic Explorer® (also known as The Psychic Lawyer) is a fourth-generation psychic medium who communicates with spirits. He is an Oxford-educated attorney licensed to practice law in Florida, Washington D.C., and before the United States Supreme Court. He recently won the OMMIE Award for Best Psychic Medium. Mark appears nationwide on TV and radio as a psychic medium, legal analyst, NDE researcher and expert in the paranormal and ancient mysteries. Mark Co-Hosts "The Psychic & The Doc" on Transformation Network. He is a VIP Executive Contributor for Best Holistic Life Magazine and the author of award-winning bestsellers The Afterlife Frequency, Evidence of Eternity, and Never Letting Go. To learn more: www.AfterlifeFrequency.comWELCOME to the award-winning DARE TO DREAM Podcast! Your #1 transformation conversation. Debbi is a Book Writing coach, so you pen and publish an engaging book. Her company also launches your book to a guaranteed international bestselling status & it's fully-done-for-the-author, plus she is the best coach for how to be a guest interviewed on podcast shows and get massive results. Learn how – get your free gift how-to templates and videos: https://debbidachinger.com/gift
Subscribe, Like, and Comment on this show. Send it to someone you know will enjoy the content.
"Dare to Dream" podcast, with host, Debbi Dachinger, offers cutting-edge conversation on metaphysics, quantum creating, channeling, healing, UFO's, paranormal and extraterrestrials. For 16 years Debbi hosts this award-winning podcast.y
Related Events