Virginia Beach, VA: Edgar Cayce ARE Ancient Mysteries Conference: Heaven and Earth Reveal Their Secrets
October 6 @ 8:00 am

-

5:00 pm

$425.00 – $465.00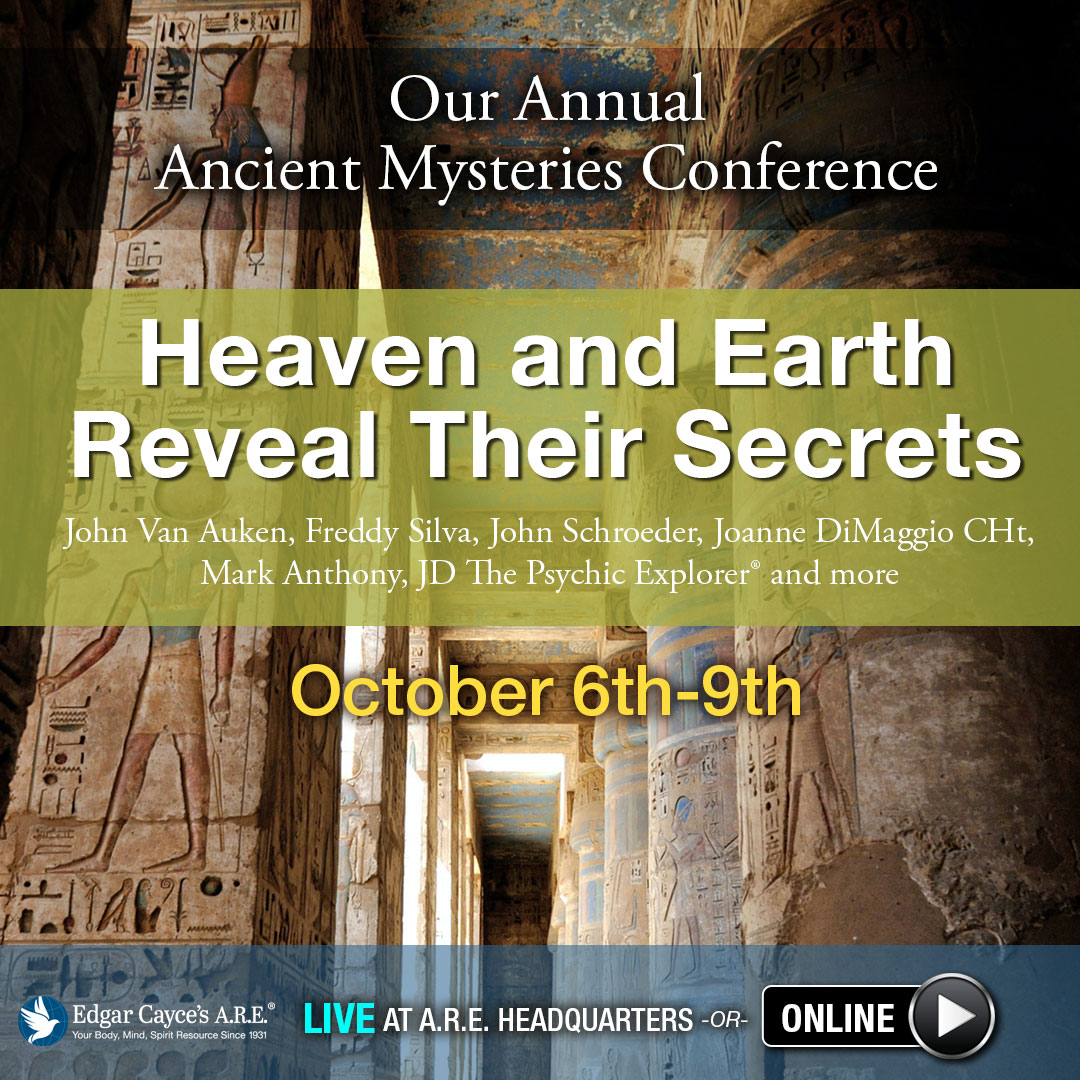 Ancient Mysteries Conference: Heaven and Earth Reveal Their Secrets
Featuring John Van Auken; Freddy Silva; Dr. Manu Seyfzadeh; John Schroeder; Joanne DiMaggio, MA, CHt; Mark Anthony, JD The Psychic Explorer® and more!
In Person AND Live Online! Take a trip through time and space and explore the archeological wonders of the ancient world! Discover the real truth behind lost legends and prophecies, forgotten cultures, and mystical obscurities. See the latest discoveries from the field, and examine the influence of the ancient past on our current lives.
Don't miss this rare opportunity to meet today's most respected researchers and explorers at our most popular annual event. You will:
Explore Ancient Egypt's secrets and splendor

Learn the secrets of Edgar Cayce's Hall of Records

Uncover the mystery of Armenia and Egypt's surprising influences on ancient Scotland and the Hebrides

Discover the mystical Magi of the Bible and the sacred astrology that guided them

Awaken memories of ancient times during a guided journey to a past life

And much more–additional speaker and topics to be announced soon!
Mark Anthony, JD Psychic Explorer will present "Sacred Astrology: The Mystical Magi and The Mystery of the Star of Bethlehem."
Using ancient Astrology, modern Astronomy and Archaeological evidence combined with his spellbinding speaking style and colorful PowerPoint presentation, Mark Anthony the Psychic Explorer® will unravel Ancient Mysteries about the Star of Bethlehem and the identities of the mystic Wise Men from the East.
DO NOT EXPECT DRY LECTURES AT THE EDGAR CAYCE ANCIENT MYSTERIES CONFERENCE! 
Includes a Speaker Reception and Book Signing.