Mark Anthony's Hallow's Eve Spirit Communication Event sponsored by Brightlive.com 7pm ET/6pm CT/5pm MT & 4pm PT
October 30, 2021 @ 7:00 pm

-

9:00 pm

$40.00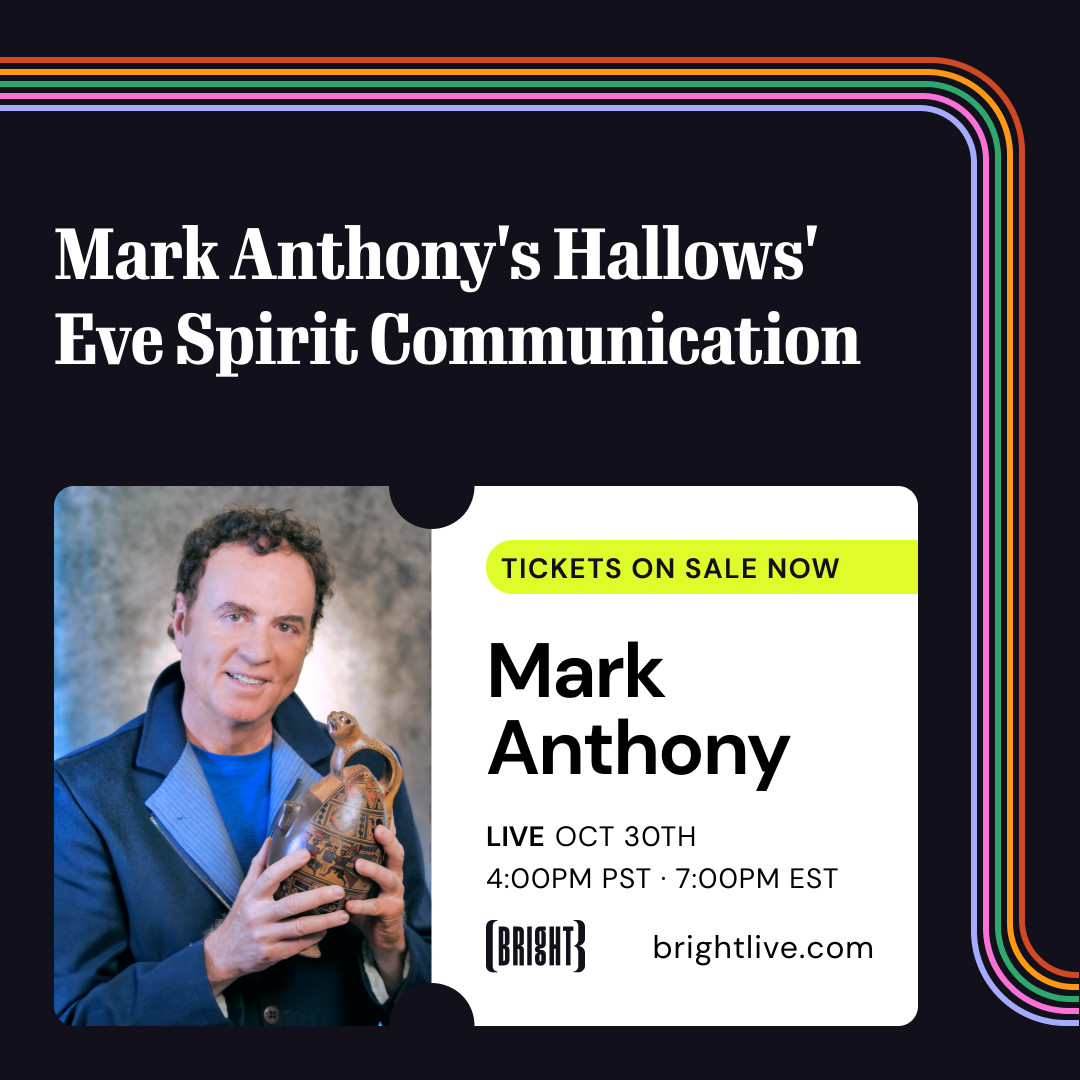 Mark Anthony's Hallow's Eve Spirit Communication Event sponsored by Brightlive.com
SPACE IS LIMITED! RESERVE YOUR TICKETS NOW!
CLICK HERE FOR BRIGHT LIVE TICKETS
Mark Anthony through his psychic ability will connect attendees with loved ones who have passed on.
In this session, World Class Psychic Medium Mark Anthony, JD known as the Psychic Explorer/ Psychic Lawyer will connect random attendees with their loved ones in spirit. This is an extraordinary experience if one is open to spirit contact.
Mark is known as "The Psychic Explorer" due to his extensive background in science, quantum physics, survival of consciousness, near-death experiences, history, archaeology, philosophy and theology. He examines mystical locations in the US and remote corners of the globe to explore ancient ruins, mysteries and supernatural phenomena which has enriched a deeper understanding of his amazing natural gift he shares with the world.
In this session, Mr. Anthony asks participants to be in a room without distraction and interruption. He begins with a brief explanation of how spirits work with him, so you may be able to identify your loved one in spirit. He kindly asks to NOT have pets in the same room since animals are sensitive to spirit contact and may disrupt the frequency he is connecting for you. Although, on occasion, pets that have passed, come through in a session! Also, it is best to be familiar with what or how loved ones died and knowledgeable of numbers. Such as, dates of births, deaths, anniversaries. and addresses. Knowing this information will help confirm what Mark presents from the spirit. Then the messages flow easily for you to receive from this most powerful and beautiful experience.
Mark appears nationwide on TV & Radio. On the CBS hit show "The Doctors," he conducted a reading which cracked a cold case murder. Recently, he was featured on Gaia TV's "Beyond Belief in the episode "Quantum Leap to the Other Side with Mark Anthony." He is the co-host of "The Psychic and The Doc" on Transformation Talk Radio and is a columnist for Best Holistic Life Magazine. His third and latest book The Afterlife Frequency is becoming a fast Bestseller and from reliable sources, has been submitted for a Pulitzer. His other best-selling books are Never Letting Go and Evidence of Eternity.
Mark Anthony is a featured speaker at afterlife and paranormal conferences and universities including Brown, Columbia, Harvard and Yale.
Space is limited and this special event on the onset of a globally conscious weekend that celebrates and honors our dead, we suggest to reserve your ticket now for a wonder-filled evening with Mark Anthony JD, the Psychic Explorer.
Related Events