LIGHT CIRCLE SPIRIT COMMUNICATION EVENT with MARK ANTHONY JD, THE PSYCHIC EXPLORER®/PSYCHIC LAWYER® (limited to seven people)
June 25, 2022 @ 2:00 pm

-

4:00 pm

$250.00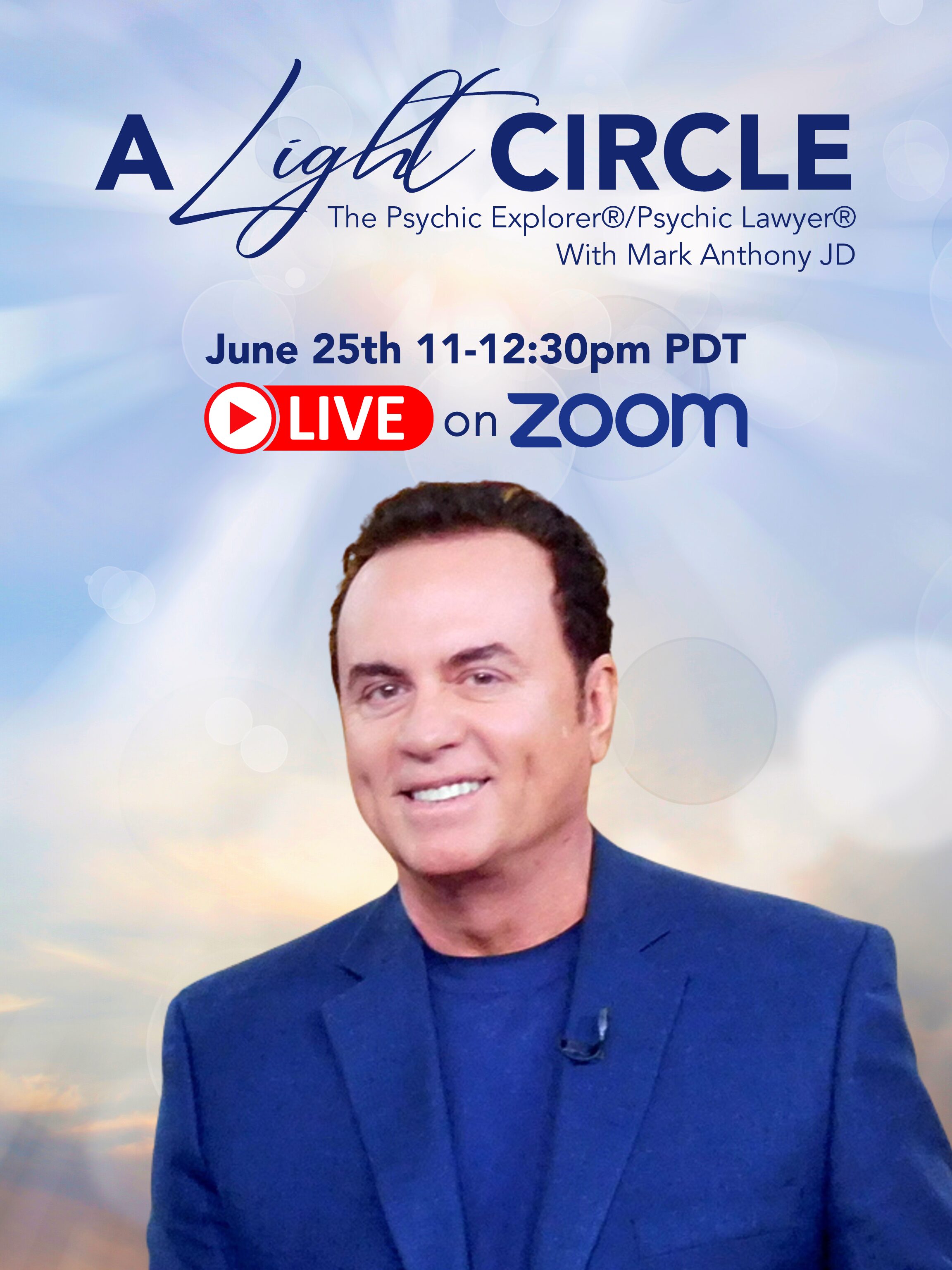 LIGHT CIRCLE SPIRIT COMMUNICATION EVENT with MARK ANTHONY JD, THE PSYCHIC EXPLORER®/PSYCHIC LAWYER® (limited to seven people) $250.00
A LIGHT CIRCLE WITH MARK ANTHONY JD, THE PSYCHIC EXPLORER®/PSYCHIC LAWYER® IS A VERY SPECIAL INTERDIMENSIONAL COMMUNICATION SESSION LIMITED TO SIX- SEVEN PEOPLE.
To prepare once you have your ticket to this session, we suggest the following:
Have a pad and pen to take notes.
There will be a short orientation prior to Mr. Anthony's Interdimensional communication of the Light Circle to guide the recipient attendees in their understanding and involvement of the experience, along with a Q&A before and after.
It is good for attendees be knowledgeable of their loved ones in spirit. Causes of death, illnesses, something distinctive about them. i.e., occupations, interests, likes, dislikes, allergies, idiosyncrasies etc., as well as have a reasonable background of dates such as births, deaths, anniversaries, etc. These are sometimes identifiers; of who it is that comes through and a way to identify and validate what Mr. Anthony brings forth in the evidence the spirit is communicating.
Absolutely No pets allowed in the space you will be in. They are sensitive to spirit contact and can become disruptive to the connection for you.
Absolutely NO alcohol/adult beverages or recreational drugs be taken before or the day of the Light Circle. Use of substances diminish the quality of the recipient's connection through Mr. Anthony from the spirit wanting to communicate to the recipient, thus dilutes one's connection experience, (After the session imbibe should you choose to do so and Cheers!)
About Mark Anthony:
Mark is an Oxford educated attorney, has tried over 100 jury trials, and is licensed to practice law in Florida, Washington D.C., and before the US Supreme Court.
Known as The Psychic Explorer due to his extensive background in science, quantum physics, survival of consciousness, near-death experiences, history, archaeology, philosophy, and theology. He examines mystical locations globally to explore ancient ruins, mysteries, and supernatural phenomena.
Mark appears nationwide on TV & Radio. He was on Gaia TV's Beyond Belief with George Noory, the CBS show, The Drs. He co-hosts The Psychic & The Doc on The Transformation Network, a columnist for Best Holistic Life Magazine. His latest book is best-seller The Afterlife Frequency. His other best-selling books are Never Letting Go and Evidence of Eternity.
To find out more about Mark Anthony go to: AfterlifeFrequency.com
Related Events