FREE ONLINE EVENT: Psychology, Science & Evidence Behind After Death Communication & NDEs
April 3 @ 3:00 pm

-

4:00 pm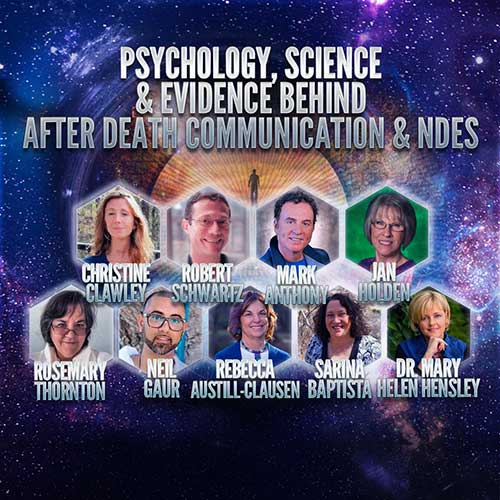 PSYCHOLOGY, SCIENCE & EVIDENCE BEHIND AFTER DEATH COMMUNICATION & NDES
10AM – 6PM PST | 1PM – 9PM EST
REGISTER TO ATTEND: CLICK HERE
Join Mark Anthony, JD Psychic Explorer and other After Death Communication experts for this deep dive exploration in which we will explore ADCs (After Death Communications) and NDEs (Near Death Experiencers) from psychologists, researchers and experiencers themselves. This all day event will shed light on the phenomena
Someone who has an after death communication (ADC) will see, hear, or feel the presence of a deceased friend or relative in their own space. These ADCs are unassisted and spontaneous, not involving psychics, mediums or therapists. The communication experience is one of comfort, often ending the pain from the loss.
"NDEs, are triggered during singular life-threatening episodes when the body is injured. About one in 10 patients with cardiac arrest in a hospital setting undergoes such an episode. Thousands of survivors of these harrowing touch-and-go situations tell of leaving their damaged bodies behind and encountering a realm beyond everyday existence, unconstrained by the usual boundaries of space and time. These powerful, mystical experiences can lead to permanent transformation of their lives." – Scientific American
Clinical studies and mainstream outlets are now unable to deny ADCs and NDEs are occurring… this is shifting our perception of human consciousness and the after life.
Related Events