Coast to Coast AM-1am ET/12am CT/11pm MT & 10pm PT
January 7, 2022 @ 1:00 am

-

3:00 am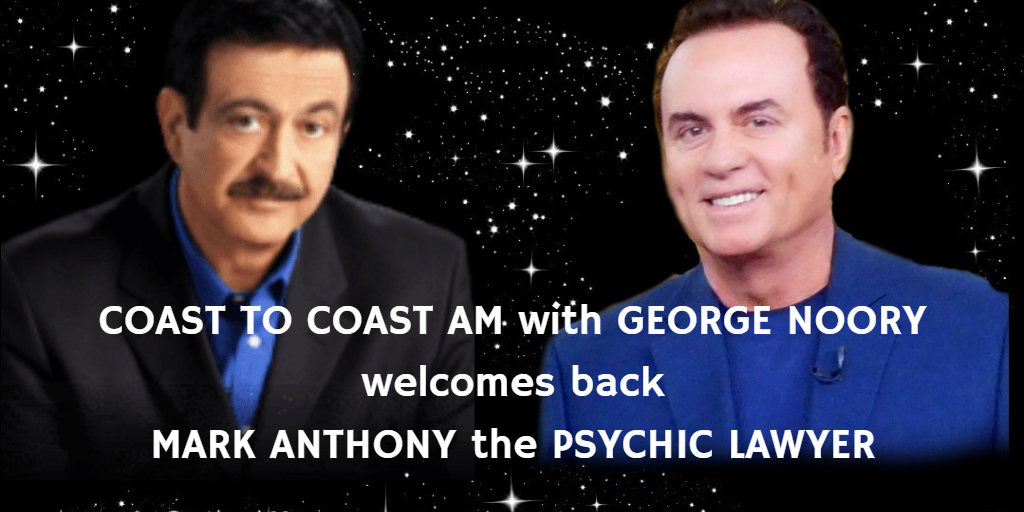 Coast to Coast AM with George Noory welcomes back Mark Anthony, JD Psychic Explorer (Psychic Lawyer) to discuss "The NDE Zone" and his new bestselling book "THE AFTERLIFE FREQUENCY."
Since the dawn of human history, people have reported Near-Death Experiences, Shared-Death Experiences, Deathbed Visions and After Death Communication. These phenomena happen when the energy of the human soul interfaces briefly overlaps with higher vibration of the Afterlife Frequency. This Interdimensional Communication occurs in "The NDE Zone" between our material world dimension and the Other Side dimension.
NDEs, SDEs, DBVs and ADC all occur between these two dimensions—The NDE Zone.
But…interdimensional communication may involve more than just contact between the human electromagnetic soul and the Other Side Dimension. It may also explain contact with beings from other dimensions such as the "shadow people" and even explain the existence of UFOs.
The Afterlife Frequency: The Scientific Proof of Spiritual Contact and How That Awareness Will Change Your Life" is a riveting exploration of the afterlife which takes you around the globe and from the cosmic to the subatomic–even into the human soul itself.
To Find Where to Listen to Coast to Coast AM:  CLICK HERE FOR COAST TO COAST AM STATIONS
To Get Your Copy of The Afterlife Frequency: CLICK HERE TO BUY YOUR COPY OF "THE AFTERLIFE FREQUENCY"
Related Events