An Evening of Spirit Communication-The Spiritualist Church of Awarness-Orlando, Florida
April 23 @ 7:00 pm

-

9:00 pm

$40.00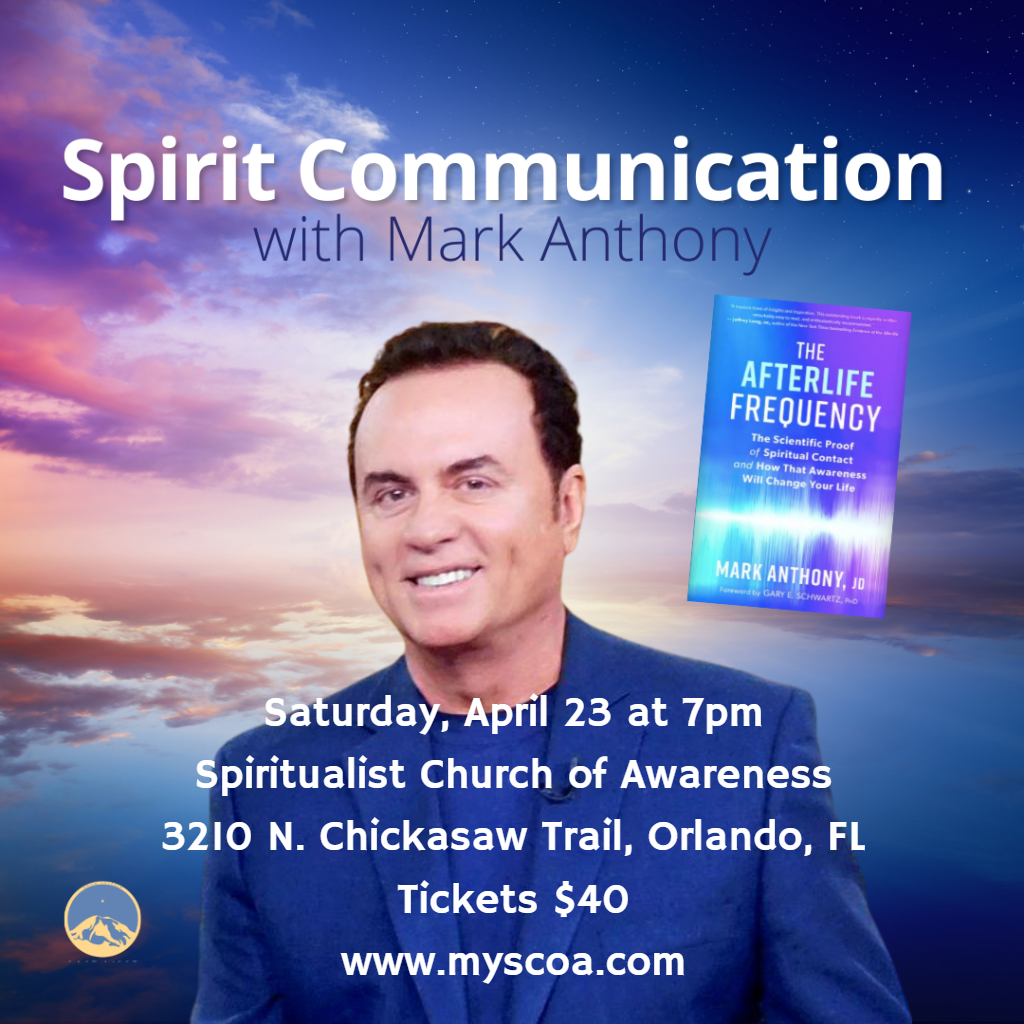 Covid vaccine and photo id required for entry.
Tickets:   $40 Contact:  Dabra Huneycutt @ dabrajo73@gmail.com.    Mark's latest book
"THE AFTERLIFE FREQUENCY" available for book signing.   Contact Annette Brown @ ar2424@cfl.rr.com.
Join us for an uplifting and inspiring presentation by Mark Anthony the Psychic Lawyer® who is featured on National TV and Radio Show. He is the co-host of the live stream show "The Psychic & The Doc" on the Transformation Network.
Mark is the author of the critically acclaimed best-sellers The Afterlife Frequency, Evidence of Eternity and Never Letting Go.
The Afterlife Frequency bridges the divide between faith and science by combining physics, neuroscience and riveting true stories. This fascinating afterlife exploration takes you around the globe, from the cosmic to the subatomic, into the human soul itself.
Evidence of Eternity removes fear and superstition from spirit communication, bringing it into the 21st Century.
Never Letting Go is the uplifting guide on the journey through grief which is recommended by hospices and grief counselors worldwide.
This event is for anyone open to the concept that life is eternal and that it is possible to communicate with our loved ones on "the Other Side."
Mark will connect random audience members with loved ones in spirit.
* Please refrain from imbibing any alcohol as that could impact your connection through Mark with the spirit world*
Mark's books will be available for sale and to be autographed after the event.
Related Events